A
ction :
tom.ajpconn
(Category :
tom
, Name :
ajpconn
, By :
kikonf
)
C
omplete Name :
tom.ajpconn.by.kikonf
V
ersion :
1.0
L
icense :
Modified BSD License
P
urpose of the tom category :
Easy to customize. This category use in background the Kikonf Repoz tools to create and configure
Apache Tomcat
® root installs and
Catalina bases
at any level (
server.xml
,
hosts
or
defaults
).
You can use it to manage the whole
Tomcat
® Architecture.
P
urpose of this ajpconn plugin : Configure an AJP connector.
The following shows in what part of a typical Architecture is likely to be found, the Resource configured by Action : tom.ajpconn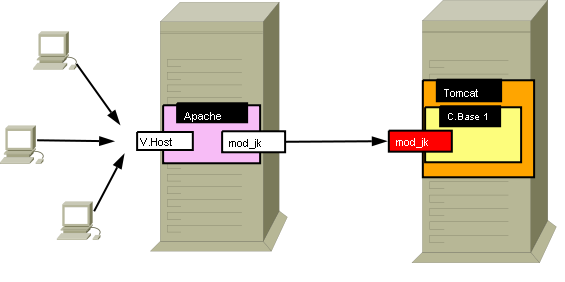 Configure an AJP connector.

An HTTP Connector listen on a specific Address and Port.

The HTTP Connector supports the protocol AJP/1.3.

The Ajp connector respond to a Web AJP connector requests.

The Web AJP connector is supported by a frontal Apache Proxy +
mod_jk or mod_proxy

To configure a Web AJP connector use the Kikonf Action: cluster.

---
Trademarks :
"Apache", "Apache Tomcat" and "Tomcat" are trademarks of the Apache Software Foundation.
"Java" and "JVM" are a registred trademarks of Oracle and/or its affiliates.
Other names may be trademarks of their respective owners.